In a recent Fox News segment, "Watters' World," host Jesse Watters conducted "man on the street" interviews with individuals in New York City's Chinatown. While "Watters' World" is known for its attempts at comedy, the interviews in this particular segment consisted of questions that TACL, like many other groups, condemns as racist and offensive.
Attempts at humor playing on racial stereotypes, such as "am I supposed to bow to say hello?" and "do you know karate," have no place in 2016 – Fox News should know better.
TACL applauds the efforts of elected officials, community leaders and Asian Americans around the nation who have gathered in a strong showing to lambast Watters and Fox News for their racist production. Their actions not only address the offensive nature of Watters' comments, but also serve to "fight the stereotype" of the Asian American community as docile and/or apathetic. On October 6th, a protest gathered in front of News Corp in NYC to demand an apology and action from those responsible. A number of elected officials – both Asian American and not, were present. Statements from the offices of other political leaders, including Taiwanese Americans Congresswoman Grace Meng and Candidate for 65th Assembly District, Yuh-Line Niou, were also issued. You can read their statements and more about the protest here.
Watters has responded to the community backlash with 2 tweets: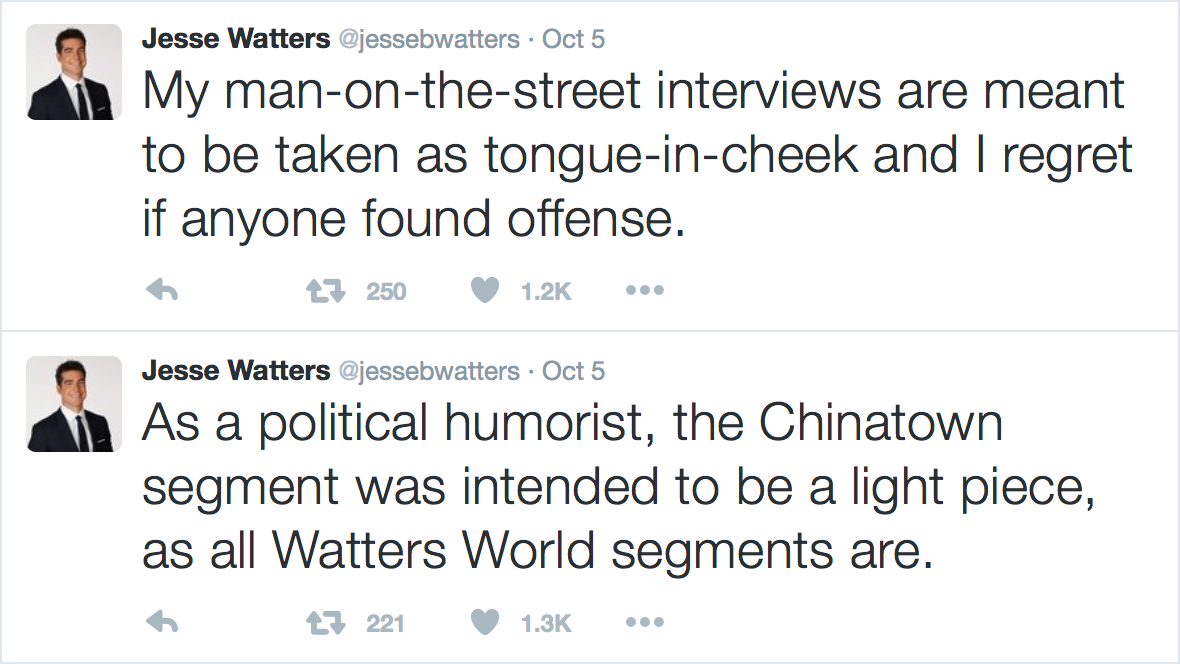 TACL stands with AAJA in its response that "It's one thing to be 'tongue-in-cheek.' It is something entirely different to hide behind the guise of political humor while using racial stereotypes." Watters' segment was not tongue-in-cheek, but a clear indication of his and the show's producers' ignorance of the AAPI community.
David Tabacoff, Executive Producer of "The O'Reilly Factor" at Fox News Channel, has since invited AAJA President Paul Cheung to appear on Friday's show to discuss their concerns. AAJA has turned down Tabacoff's invitation and instead invited Fox News staff members to participate in a conversation with the Asian American and Pacific Islander communities at a town hall to be held in New York's Chinatown, where Jesse Watters, his producers and other Fox News staff members were strongly encouraged to attend. (Source: AAJA) The town hall will take place October 9th, Sunday between 2 p.m. and 4 p.m. at the Museum of Chinese in America in Chinatown; additional details will follow.
As Ronny Chieng on "The Daily Show" explains, it's not that Asians can't be the targets of humor, but he wants to raise the bar. Watch Chieng's response to Watters here.
TACL stands with our community leaders in demanding an apology and requests Tabacoff, Bill O'Reilly, Watters and the show's producers and staff to attend the town hall to educate themselves about our AAPI community. It is time they stop hiding behind ignorance.
Call to Action:
Sign this change.org petition calling for:

An immediate apology and retraction for the Watters' World: Chinatown segment
Cancel "Watters' World" segments and/or scheduled specials from future broadcast.
Agree to a meeting between representatives of the Asian American community and Fox News executives, 'O'Reilly Factor' producers, 'O'Reilly Factor' host Bill O'Reilly and correspondent Jesse Watters to discuss the impact of on-air racism on viewers, as well as to consider next steps to address this issue as well as the broader underrepresentation and misrepresentation of the Asian American community at Fox News. This meeting must take place within 90 days of the segment's original air date (October 3, 2016).

Share your thoughts on social media
Vote on November 8th and in other elections to show the public that Asian Americans have a say on issues, care about policy, and have a strong voice.